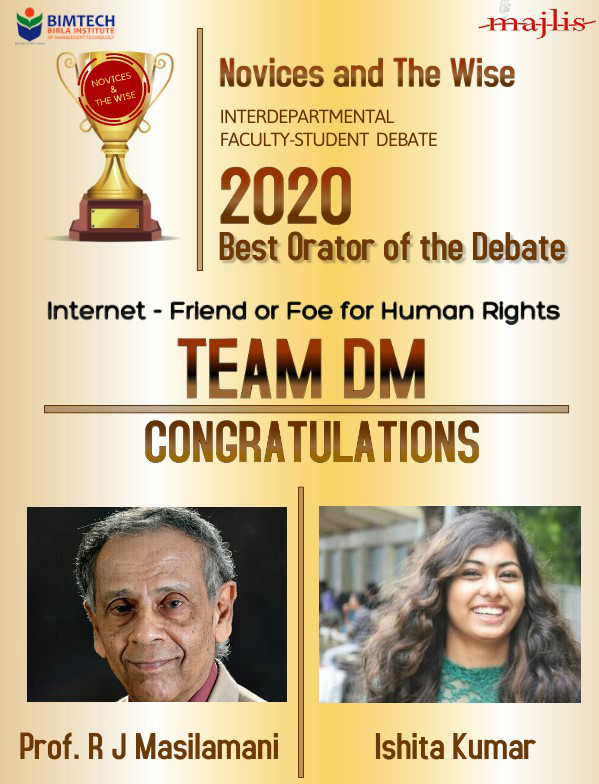 Majlis – The Theatre and Debating Society of BIMTECH organized an interdepartmental, student-faculty, debate competition on 8th of December 2020. The event turned out to be a highly engaging and interesting one. It received an astonishing response from all the departments. Not only the students but faculty members were equally eager to know which side will win the fierce competition. The battle of words was done between two teams. Supporting For side were Prof. R J Masilamani and Ishita Kumar from DM (and also from Editorial conduit) and Prof. K R Chari and Mugdha Kumar from IB. Whereas, Prof. Pratik Priyadarshi and Vasu Gupta from IBM and Prof. Manoj Pant and Sankhabrata Chowdhury from RM, were fighting Against the motion.
It was an honour to have Prof. Sangeeta Shukla as the judge for the competition because her contribution towards Majlis as a society is undeniable. Dr. Amit Nagpal, moderator of the debate, did a wonderful job in managing the flow of debate, informing participants when it went off-track, kept a note of time and also asked relevant questions at the end of the debate. Prof. Saloni Sinha, mentor of Majlis, gracefully pulled off the event. Her supportive words acted like a lighthouse for the team throughout the event.
The most important element of any debate is the topic on which competing teams have to speak For and Against. Considering the vitality of it, the topic for the debate was selected after a lot of brainstorming by the team members of Majlis along with Prof. Saloni. Consequently, the team came up with a highly controversial notion, "Internet: A Friend or A Foe for Human Rights".