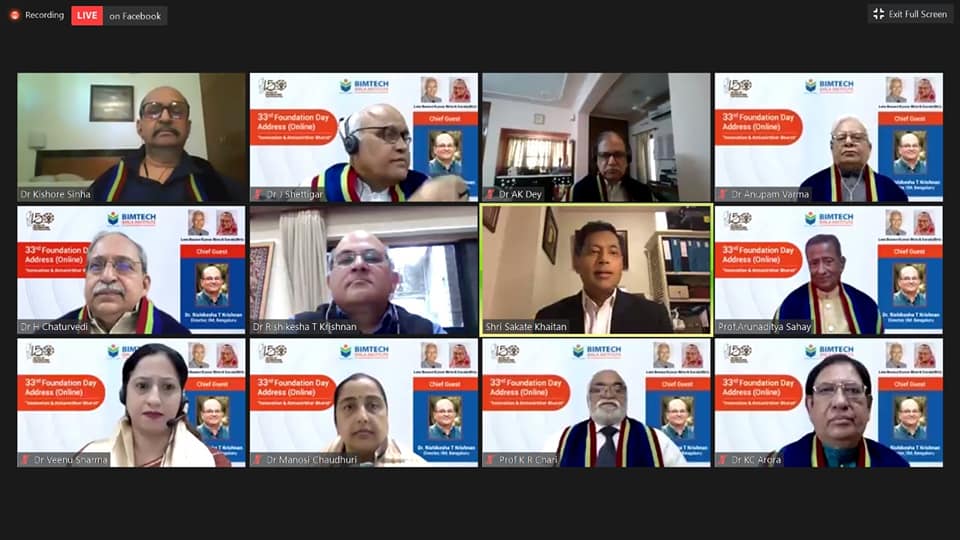 Birla Institute of Management Technology organized its 33rd Foundation Day on October 2, 2020. The day also marked the birth anniversary of the two great leaders of the country Mahatma Gandhi and Lal Bahadur Shastri. The program was conducted through online mode adhering to social distancing norm a new normal. Dr. Rishikesha T Krishnan was the Chief Guest of the day. He is a highly accomplished institution builder, teacher, thought leader, a writer, and an educationist, and a person par excellence to grace this occasion. In his Foundation Day Address today, he has touched upon the very topical theme 'Innovation and Atmanirbhar Bharat', their relevance in everyday life as well as to Management Education.
The program started with the enlightenment of Hindi Shlok by Dr. Veenu Sharma which personified to be creative enough and unbounded, which also meant to be flexible enough to adapt and to explore the world around us. Further, she mentioned the vision and mission of the institution imbibe the principles of Mahatma Gandhi especially the value of discipline.
The remarkable and enthusiastic words by the Director, Dr. H. Chaturvedi, in his welcome address, voiced the key points which the institute has been following all these years in the form of "Values, Innovation & Entrepreneurship". He also recollected that during the stringent time of COVID, Mahatma Gandhi's principle of showing empathy towards each other is one of the essential principles and concluded with a note that we required to be a step ahead to become Atmanirbhar Bharat and how the institute aspires always to be a step ahead.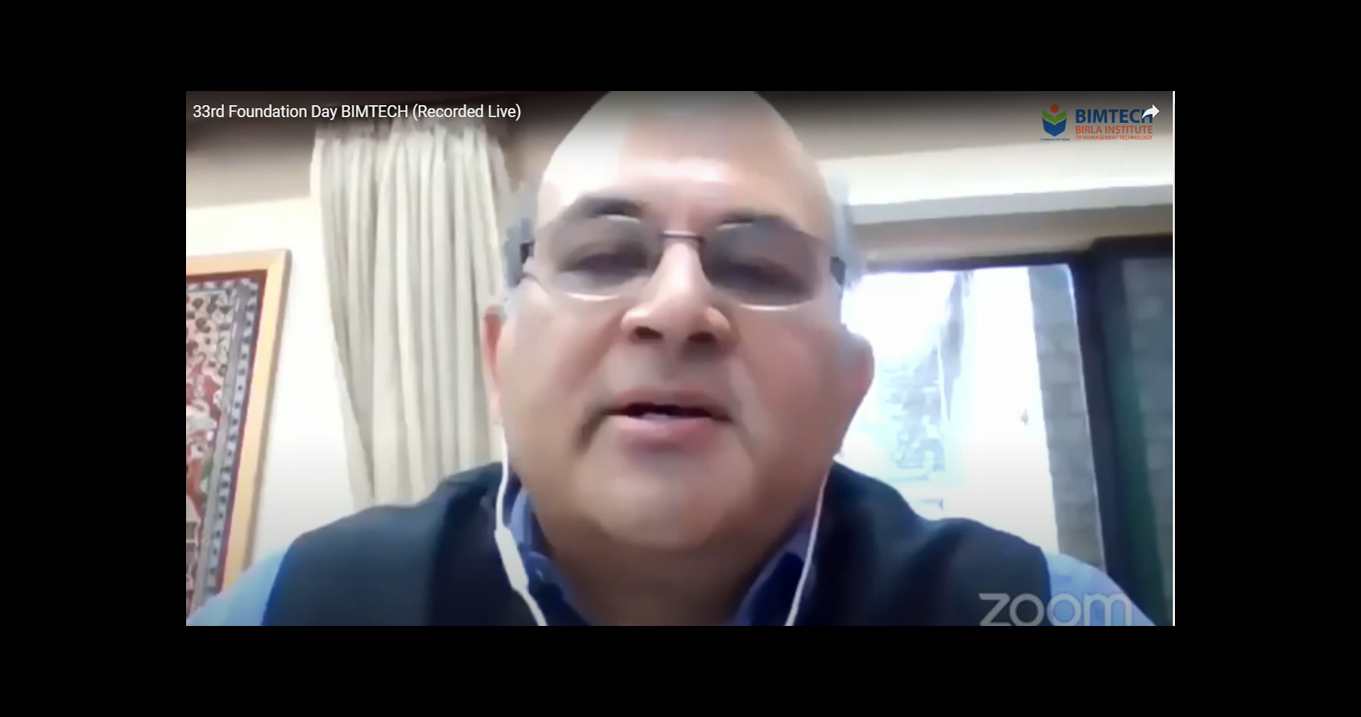 The Chief Guest, Prof. Rishikesha Krishnan began his address by paying tribute to Late Basant Kumar Birla and Late Sarla Birla, the founders of Birla Institute of Management Technology, Greater Noida. He shared his positive memory with the great founders and observed how simple they were yet wise persons. Though he had little opportunity to interact with them.
The speaker defined Atmanirbhar Bharat and the importance of Innovation in this context. Emphasis was given on innovation, and being competitive is not only looking after the domestic market but also to be competitive enough globally. He also emphasized that Atmanirbhar Bharat would mean continuous improvement in terms of marketing, manufacturing, supply chain. Also, enhancing batting average which means the proportion of changing ideas into the process. He concluded with a positive note that- "We are getting on the treadmill of innovation and trying to be competitive."
On being asked about his opinion on a few questions one of the key highlights which Prof. Rishikesha Krishnan pointed out that for India to be Atmanirbhar, networking, and promotion of Indian entrepreneurship should be the focus. He also emphasized on the point that Government has been taking various steps and introducing various measures to balance sustainability of economy, but we as a citizen should understand the responsibility at an individual level to make Atmanirbhar Bharat a dream come true.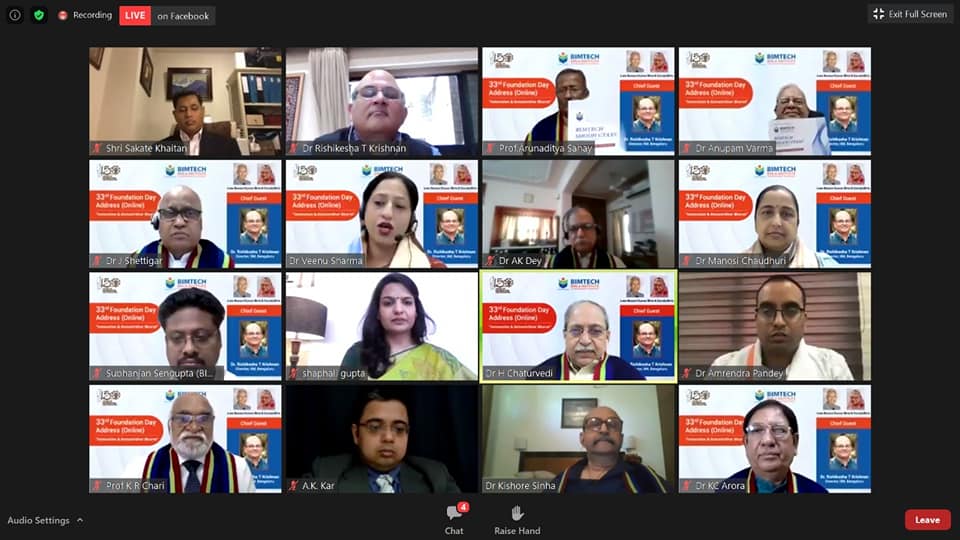 On this occasion, BIMTECH felicitated the winners/achievers in the field of research, teaching, and their services. BIMTECH congratulated the Basant Kumar Birla Distinguished Research Scholar Awardees for Social Science and Management 2019. BIMTECH honored Dr. Shaphali Gupta, Dr. Arpan Kar, and Dr. Ramendra Singh for their outstanding and sustained contributions to the research and development in the field of management. Dr. Subhanjan Sengupta was felicitated for having received the 'Best Researcher Award, Academic Year 2019 -20' and 'Jagdish N.Sheth Best Thesis Award 2019' and Dr. Amrendra Pandey for having received the first 'Best Teacher Award' for Academic Year 2019 -20.
BIMTECH strongly believes in the saying "The achievement of an organization is the result of the collective efforts of every individual" and keeping this in mind, the institute congratulated Prof. Kishore Sinha, Mr. Saikrushna Bharati, Mr. Dinesh Chandra Singh, Mr. Ajab Singh, Mr. Shiv Kumar Sharma, Mr. Arun Kumar Singh, Mr. Nagendra Singh, Mr. Santosh Kumar, Ms. Nirmala Patel on their completing 10 years of distinguished services at BIMTECH.
Dr. Sanjiva Shankar Dubey shared the details about the newly created Centre for Online Studies, launching PGDM, PGCM, and Certification Programs online. To embark on the journey of excellence Annual Activity 2020 report was released and the inhouse research journal 'Shodhgyaan' was released. A mesmerizing performance was made by Md. Ayaz Qureshi, a first-year PGDM student from Raipur, Chhattisgarh, who paid his homage to the Father of the Nation by playing flute.
Vote of thanks was proposed by Dr. Anupam Varma stating a few exuberant lines that BIMTECH has not left anything untouched in terms of infrastructure, faculty, activities, clubs, and conduits and also the alumni who have reached all over the world and BIMTECH aspires to grow a step ahead every year with its value of education, excellence, and innovation. The event ended with the national anthem.